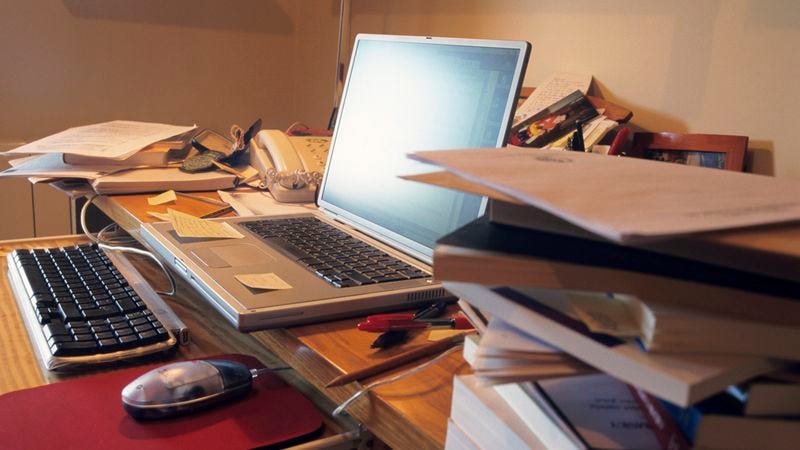 When my boss told me earlier today that I was temporarily being placed on desk duty, I was understandably a little upset. After all, I became a cop to avoid sitting in an office all day, and this seemed like a change of pace I wouldn't exactly enjoy. But law enforcement is unpredictable, and just like I never thought I'd have to choke out a 350-pound criminal, I never imagined that being stuck at a desk all day could be so refreshing.
You see, unlike being confined to a patrol car with my partner and belligerent criminals, here I've got a nice, cozy little space to call my own. I think I'm going to decorate it with a picture of my family, some snacks, and maybe even a Far Side calendar that lets me start my mornings off with a chuckle. This desk will be home in no time!

Sure, my day-to-day is quieter now; I'll admit there's not as much excitement. But honestly, the excitement of being on patrol wasn't always a good kind of excitement. Out on the street, everything's so stressful and confusing, and you're constantly surrounded by strange and often dangerous people.  

Who would have thought that my life would change so much in just one day? 

Desk life is so much simpler. There isn't that much work for me to do yet, so I mostly just kick back and read about sports, and maybe play some computer games every once in a while. There's a freshly filled pot of coffee available for you whenever you want it, plus there's air conditioning.
Who would have thought that my life would change so much in just one day?
Yup, the only crime I have to worry about now is someone stealing my spinny chair (trust me, the way it reclines is incredible), and the only time I have to take down bad guys is on the softball field (that's right, 26th Precinct, we're coming for you!). It really is a different world.

All in all, I can't think of a more enjoyable way to protect and to serve than from right here at my desk.  In fact, the only thing I really miss is having a gun for protecting myself. With that said, I bet if I ask nicely enough, I can get one of my buddies to lend me one of theirs from time to time.