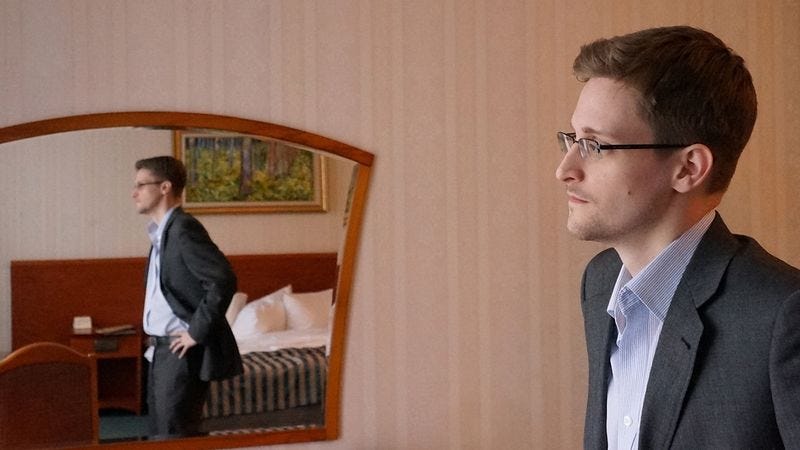 I knew my life would never be the same after leaking classified information about the NSA's global surveillance program, and I don't regret standing up for a freer, more open society one bit. However, I certainly did not anticipate the current hell I am enduring: I forgot my toothbrush when I left America and haven't brushed my teeth since I got to Russia.
I was in a big rush when I fled the United States after exposing the NSA's far-reaching data-collection policies that completely trample individual liberty, and I only had time to pack essentials like my computer, cash, a change of clothes, etc. The moment I opened my toiletry bag in Moscow and saw nothing but a nearly empty tube of toothpaste, I knew I had a major problem: no toothbrush. I was thrown into a panic by the daunting realization that, without a toothbrush, I could not brush my teeth. I had been so quick to escape any treason charges that were headed my way that I made this totally boneheaded oversight.
Far from my family, friends, and country that now called me a traitor, I had no choice but to do the thing where you put dabs of toothpaste on your finger and rub it on your teeth. That didn't turn out well for me, because fingers are too smooth to really get the grit off your teeth. I've since resorted to a number of heinous alternatives for cleaning my mouth, which include biting into a bar of soap, rinsing with microwaved salt water, and rubbing an ice cube on my teeth, none of which have been effective.
For my mouth's sake, I hope I am pardoned soon.
When I decided to unmask how the U.S. government completely disregards the Constitution to monitor its own citizens without their consent, I never thought it would result in my teeth turning piss yellow and a sickening, gray film coating my tongue.
I am endlessly grateful to Russia for giving me refuge following my actions that I believe were my duty as a patriot, but I sincerely wish someone here would give me a toothbrush. The food and amenities they have provided for me are plentiful, but every time I mention that I would like a toothbrush, they either pretend not to hear me or say that they will get me one later, and then never come back with one. I don't care how it happens; I just really want a toothbrush.
My mouth smells so, so bad.
I thought things were going to be better once my girlfriend, Lindsay, joined me. I let her know how badly I needed a toothbrush before she came, but she ended up bringing four toothbrushes for herself only. She refuses to let me use any of them. No matter how much I beg, she says, "Snowden, no. These are mine." When I sneak one of her old and frayed toothbrushes out of the garbage, Lindsay grabs it from me and mails it to a landfill in America, where I cannot return to yet.

For my mouth's sake, I hope I am pardoned soon.

Was raising awareness about mass surveillance and information privacy worth my putrid teeth and noxious breath? I'd like to think yes, but I am forced to reconsider this question every time I gag on the rot sloughing off my own tongue. If I'm ever pardoned, brushing my teeth will be the first thing I do back home. Until then, my mouth will remain disgusting in Russia.